---
West Midlands Transport Inspector's Badge (1970?)
---
Midland Bank £100 cloth bag (1969)
---


1958 Cadbury's Bourn-Vita Beaker
Not exactly a collector's item but they do go back quite a long way. Also known as the 'Sleeping Beaker', it was made by Wedgewood in the 1930's to promote the drink and came with a saucer. Such was the success of the campaign that Cadbury commissioned Wedgewood to produce bowls, plates and jugs etc. Your free beaker would come from collecting the wrappers off tins of Bourn-Vita and that either yielded a porcelain one (in the 1930's) or a relaunched fashionable plastic one in the 50's!
---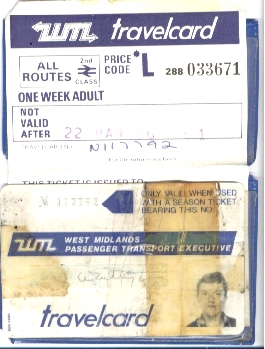 Birmingham, UK, WMPTE travelcard or "buzzpass" circa 1982
---
Ultra rare City of Birmingham, UK, trial electronic parking meter card - 1985. Purchased from a newsagent in various denominations, these plastic cards wouldn't work in the rain, were as notoriously unreliable as the ugly machines they were supposed to fit into and only usable in about 3 locations. The standard meters were refitted within 3 months.
---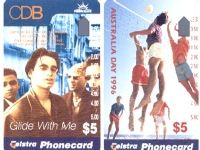 Phone cards from Australia and the UK
---

Back to the Virtualgaz Homepage