The Raleigh Chopper®
---
Possibly the ugliest, most unstable and heaviest pushbike ever invented was this absolute icon of the 70's. In late 1968 Raleigh released its 'Chopper' on the American market with odd sized wheels, good old British-designed Sturmey Archer 3-speed stick shift and a saddle to die for. The UK release was 1969. The frames fell apart in 1970 and they were withdrawn from sale in 1971. Enter the Mk2.... and if you couldn't get five on a Mk2 Chopper...... you simply weren't trying.
---
Gary Seaton's 'Jonathan Ford' Limited Edition - info anyone?
---
Gary Seaton's Vindec copy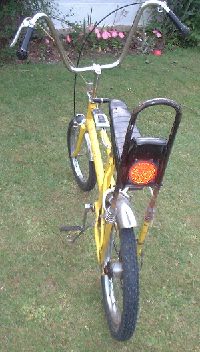 A Vindec backie?
---
This beauty of an example was purchased for 37 new pounds from Junner's of Elgin, Scotland sometime in 1972. With one previous owner, this fine specimen has recently been completely overhauled and is now sporting a new 'redline' rear tyre. It's rumoured that the USA-built Chopper took a 5-speed Derailleur.
that classic reflector
stand digging in nicely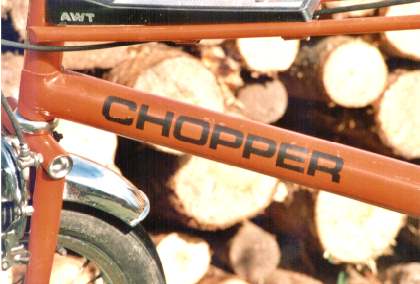 ---
Proud Chopper-owning Ipswich Town football fan circa 1979. Of particular note is the original brake cable clip out front, the fact that he may try and pull away in third gear and the lowest possible seat setting.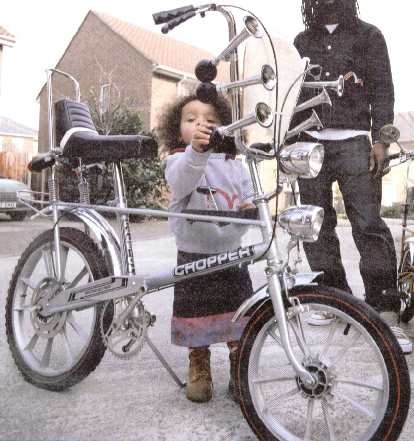 LJ and her dad Dean Weir with their Limited Edition in London. Alloy wheels, factory lights and horns and the BMX-ish front plate. History anyone?
---
LINKS
**info required on CHIPPER, TOMAHAWK, GRIFTER, COMMANDO and BUDGIE**
mail VG

Back to the Virtualgaz Homepage