NOW FEATURING...

---
Agnetha, Benny, Bjorn and Anni-Frid.
The one and only 'Supergroup'. They did, still do and always will knock any pop group you care to mention into a cocked hat. All accomplished musicians in their own right prior to forming the foursome, during their 10 years as ABBA they spent over 5 cumulative years in the UK charts, never had a release which failed to get into the Top 40, had a run of 18 consecutive top 10 hits and spent 31 weeks at the top of the charts with 9 number 1's. Needless to say, the numerous attempts at the lowest form of music - the 'cover version' - have proved that no-one can equal the vocal range and complexity of a single ABBA recording.
---
Agnetha Fältskog
Everyone listens when she starts to sing. Dancer before she could walk. Began to sing long before she could talk... Rightly or wrongly, the golden-haired Agnetha (pronounced 'an-yetta') is what many people classed as ABBA. Her lyrical emotion has rarely been equalled and as for the visuals, the unflattering outfits only served to make her more appealing. A Goddess.
---
Anni-Frid Lyngstad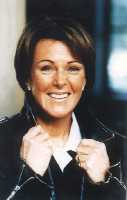 'Frida' somehow seemed classier than the rest of the group. Frida's superb vocal range and entirely more polished voice was complimented with being the most 'showbiz' member of the group....and as for her harmonies, well......
---
Bjorn Ulvaeus
Bacharach & David, Taupin & Dwight, Lennon & McCartney and Andersson & Ulvaeus. Bjorn was the guitar-strumming technological brains of one of pop's greatest ever partnerships. Both perfectionists, they produced not only some of the worst 'looks' but some of the greatest pop records of all time. Bjorn was in part responsible for making Abba Sweden's second biggest export after Volvo cars during the Supergroup's hold on the charts..
---
Benny Andersson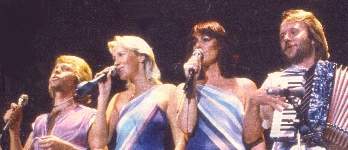 Benny was the creative genius and manic pianist behind the finely crafted arrangements and tunes of Abba. Some were corny and some were banal but most were fantastically catchy and most still stand up as the best dance tracks any disco or wedding reception can throw at you. Anyway, who could criticise one of the most prolific, diverse and popular pop songwriters ever.
Who can live without it, I ask in all honesty, what would life be - without a song or a dance, what are we?
---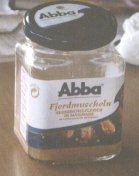 After a national newspaper poll around 1972, the band finally started using a name slightly less longwinded than "Benny, Bjorn Anni-Frid and Agnetha". The Finnish food processing company famous for their jarred mussells, 'Abba', were approached and said that using their name was OK as long as the group never had any affiliation with fish products. They never did.
---

---
mail ABBApage
Links