Datsun Bluebird ('81)
The Australian built Datsun Bluebird S/W with 2000cc's of automatic power...hmmm
---
Vauxhall's Wyvern VX 10/4 (1938-48)
This was DB's first car - a 1939(?) Vauxhall Wyvern which cost £5.0s.0d sometime during the 50's. The VX10/4 engine was a 10hp 4cyl unit strangely enough and this model sported all the now-classic features of ancient motoring - suicide doors, starting handle, trafficators, cable brakes, cross-ply tyres, 35mph max., 7mpg and a GVW of about 14 tons.
---
MG B GT (1968-81)
"They never sold many in this Primrose colour" says the geezer at the MG centre. I wonder why?
The car's owner is currently under sedation after yet another axle/engine removal exercise. The whole sorry story will be told when he is released from his padded cell.
---
Hillman Avenger (1970-80)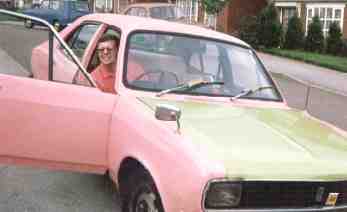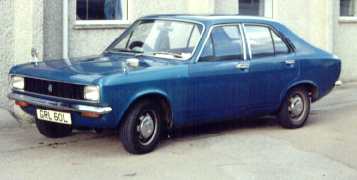 Notorious for their rusting qualities, leaking windscreens and huge lump of removable foam in the centre of the steering wheel which later became the facelifted Chrysler Avenger. The pink one was a '71 1600cc with a 1250 gearbox and was an absolute nail. Painted it with a mixture of red gloss and white emulsion with a lime green bonnet, bootlid and petrol cap. 16mpg, no heater and unprecedented oil consumption and leakage. Died when drivers seat snapped and MoT was due.
---
Ford (Australia) Falcon XC (1974-80)
This is the 1978 station wagon model with the 302cu" (4.9 litre) Cleveland V8 (201bhp) with C4 auto. Other variants included the 5-door sedan, utility pick-up and 2-door coupe with power units ranging from 3.3 litre (straight 6cyl) to the mighty 351cu" (5.8 litre) Windsor V8. Like all Falcons, it was built as a faithful and unfailing workhorse for the hostile environment of Australia. It's said that you can't fill one of these beasts up at the petrol pump if you leave the engine running. Early wagons sagged in the middle if jacked up (making the doors impossible to open) so stronger sills were introduced soon after introduction. One of the very few cars Virtualgaz has ever sold on - it had covered 400,000km by that time.
---
Mazda 929 (1979-82)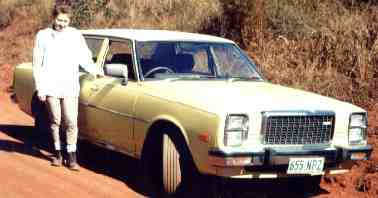 Very reliable in the 2.0 litre automatic form even if a bit sluggish. Used extensively as taxis in Japan. Basically, a chunky and well equipped tank.