Austin Healey Sprite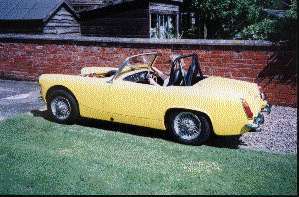 The restoration of this classic took 20 years but "You can't rush these things" says BJ about his little Sprite (a.k.a. the Original Millennium Project).
It all started way back in the latter half of the last century (1981), following BJ's full restoration of a '67 Cooper 'S' to fund a central heating system (yes, even BJ was hard up at one stage!). In his own words: "The Sprite is not my favourite car, however it was there, free, rot free, but had been taken apart by someone who had obviously never attempted a restoration job before. I also knew that certain key items would be missing (i.e. engine, dash, seats) So, back in '82 with not a lot to do, I started to dismember the old timer even further than its previous owner, discarding & re-building on the way to include a fresh Primrose Yellow outer and then a 1400cc 'A'-Series bottom end and loose pistons (but no rings). The idea back then was to turbocharge the thing using an aluminium crossflow cylinder head that was available to me (I was game for anything in those days - no fear!). Working out how much to machine out of the chamber, the amount of material to be removed from the piston crowns (to get the sort of compression ratio I'd need) plus identifying the kind of compressor unit and camshaft most applicable / available was as far as I got".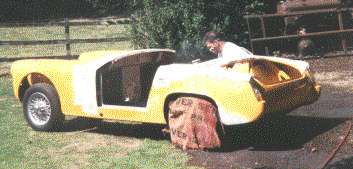 "During 1983 I suddenly found myself totally absorbed in building competition engines for other people. This activity turned into a bit of a monster which ended up taking over my whole life at that time. It left almost no free time, no holidays for 4 years and every weekend was taken up either trying to catch up time with a new build or with rebuilds or attending race meetings to support clients or having test days. But I was enjoying myself, was successful at it, and got paid for it - what more could you want! I extracted myself from the motorsport scene in late 1994 no longer worrying about racing deadlines and whinging driver's screaming like spoilt brats for 'more horsepower' when really they couldn't handle what they'd already got. Life became almost normal again and I realised that (amongst a lot of other things) I really had to finish off the Sprite. It was becoming an embarrassment. When I came to properly survey the condition of the car, even after 11 years of standing undercover, it was pretty obvious that much of the work I had previously done would need to be done again. This time I wasn't going to mess about, it was going to be a full scale attack, a full 'nut and bolt' job. So, everything came off the car again - the shell was rubbed down and sprayed again, the underseal was scraped off for black Hammerite and all the suspension came apart again and so on. This time I decided to simplify the engine spec. Still 1400cc but normally aspirated and to a reasonably potent road-going engine tune".
"The restoration now included a total rewire, new trim, new seats, new brakes and buying all the missing bits to complete the engine work... One of the biggest problems was finding a set of 74mm piston rings. Easily sought back in '82, but since then the industry had decided to kind of settle on 73.5mm as being the 'acceptable' maximum oversize from 1275cc, so could I find any rings? Could I coco. Following months of ringing around and searching the classifieds, I eventually found some fairly local! All this work was done mostly on Saturdays, so it did tend to drag on a bit [more excuses - Ed] but I looked on it as my therapy and 'keeping me and in'. The car was eventually completed during September 2001 and was launched by driving it around the In-Law's paddock. I've kind of grown to like the car but I'm not exactly comfortable sitting in it due to the somewhat cramped driving position and restricted width - not really suiting my substantial height and girth. Now I know why they call 'em 'Sprite's' and 'Midget's' - it's because you need to be 4' 11" to drive 'em comfortably!"
---
Triumph Spitfire
Some cars are hard to let go of, and hours upon hours are spent at the workshop bench and under the hood working on the car. It can be difficult to let go of the memories we associate with these cars, and the nostalgia that goes along with having owned a car for such a long time.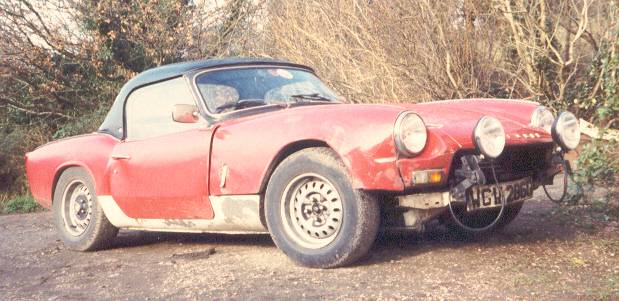 A CMW special. Still alive today rumour has it. Not a straight panel on it, matt red occasionally and more bits missing than are remaining.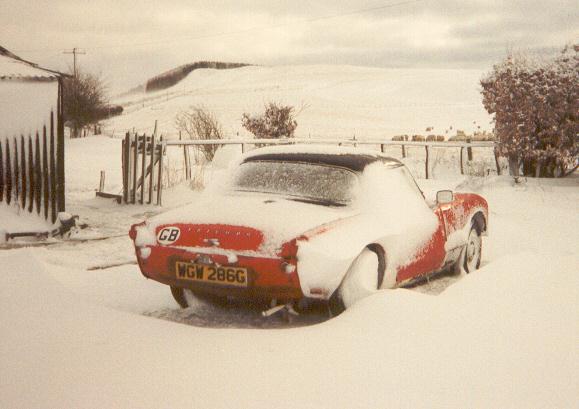 They used to say that it was a Triumph getting a Spitty going on a morning like this. CMW says he likes the snow - because it makes his cars look like everyone else's!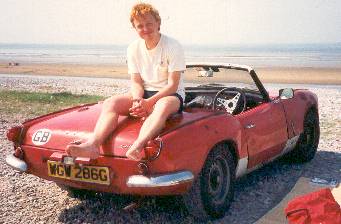 The man himself. An eccentric billionaire and renowned bush mechanic.

Then and now......2002!
---
Datsun 120J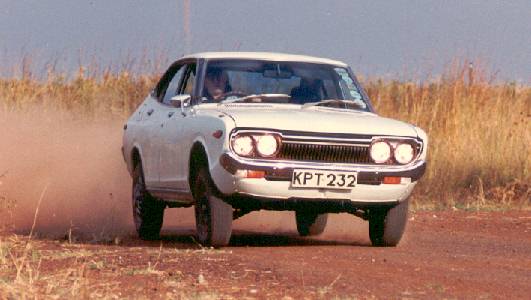 Action shot. CMW at speed. Little wonder Stig Blomqvist and Bjorn Waldegaard opted for the Ford Escort
---