The Incredible Citroën 2cV6
---
The Citroën Deux Chevaux is the finest example of simplistic engineering of all time. Originally designed by Pierre Boulanger in 1936, the basic design remained unaltered up until 1989 when world emissions legislation and motor vehicle manufacturer crashworthiness regulations saw it off. After production of over 5 million of the things, Citroën were also keen to shake off the car as they promoted hi-tech cars like the BX (perhaps the most unreliable car of all time?).

The famed 1976 drum brake £50-er. Terminally rotten, a strong wind would've dismantled it if I hadn't have left it to mate Phil
LHD low spec 1983 Speciál. Chassis snapped.
The rotten 1985 Club donor
Pre renovation LHD Charleston. First registered in the early '80's in Denmark - now has a galvo chassis
Done! Full respray, 5 new Mich's, new floors, sills, trackrod-ends, kingpins, hood and all unnecessary trim removed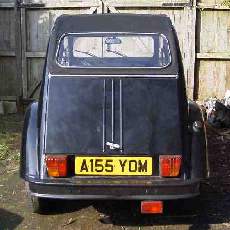 Unsightly foglight is a roadworthiness requirement in the UK and the lack of hazard warning lights is frowned upon. Currently the 602cc flat twin engine has covered 170,000 km and is classified as a 'LEV' (low emission vehicle), so road tax is cheap!
---
Another Portugese effort bites the dust. This one had only covered 27,000 miles before disintegration!
Back end donated to Big Rog's write-off - who lost an argument (and a trailer) with a Volvo truck!
---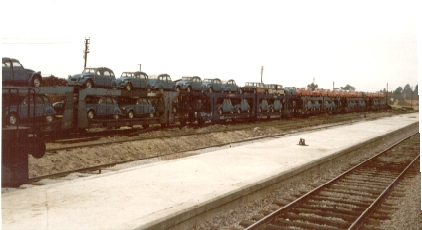 mail VG
the first unleaded engine (hardened valve seats) :- 0906015013
Links

Back to the Virtualgaz Homepage